Discover more from Wajdi Archives
Writing about healthcare, medtech, medical history and medical tourism.
Seegene: a Global Molecular Diagnostics (MDx) Player
The ultimate chronological guide.
Seegene, a South Korean biotech firm led by Founder & CEO Dr. Chun Jong-yoon, played a crucial role in controlling the spread of COVID-19 in South Korea. When news of the virus outbreak emerged in Wuhan, Seegene rapidly developed a diagnostic kit, the Allplex 2019-nCoV Assay, within two weeks. Remarkably, the Korea Centers for Disease Control and Prevention (KCDC) approved the kit's use in just two weeks, a process that typically takes much longer. Seegene's efficient test, based on molecular diagnostics, significantly contributed to South Korea's successful containment of the virus, and the company ramped up production to meet global demand, with plans to supply up to 3 million test kits per week.
Seegene is the first company that introduced the sue of "3ct" technology to test for multiple viruses all at once using a single PCR test.1
But Seegene hadn't always been enjoying this level of success. It was founded in 2000 in Seoul by Dr. Jong-Yoon Chun. Chun started the company with a 300 million Korean won investment from his uncle (about $240,000). For the first 3 years, the company had zero revenues.2
Seegene has established an important global network through its 8 subsidiaries, and therefore has become a global player in the molecular diagnostics (MDx) market.
In May 2007, Seegene and BioServe formed a partnership to collaborate on the development of new infectious disease detection systems for the Indian market. BioServe provided access to its extensive repository of Indian DNA samples, enabling the joint development of test systems for diseases such as STDs, Tuberculosis (TB), and HIV using Seegene's novel DPO™ technology. The goal of this collaboration was to aid in the early detection of multiple pathogens in India, where the prevalence of infectious diseases was a significant health concern, with millions affected annually.3
In July 2007, Seegene introduced Seeplex®, an "18-plex Genotyping" DNA Test that can simultaneously detect 18 different Human Papillomaviruses (HPVs) which are known to cause cervical cancer.45
As of September 2007, its Rockville-based US subsidiary, Seegene Technologies, had only six employees.6
In October 2007, the Seeplex® 18-Plex Respiratory Test entered production. This is a test that could detect DNA/RNA form all 13 major respiratory infection viruses and 5 respiratory infection bacteria. The test, however, could not detect tuberculosis. Seegene operated as a testing laboratory until 2006 when it changed its vision, directing its focus to become a pioneer in molecular diagnosis.
In April 2008, Seegene announced the optimization of its Seeplex® multi-pathogen detection tests for Lab901's ScreenTape and Caliper LifeSciences' LC90 automated detection systems, expanding their usability across various laboratory settings, from small to large reference labs. These tests employed multiplexing PCR technology to detect multiple pathogens in a single tube and offered precise and cost-effective screening for a range of conditions, including STDs, respiratory viruses, Human Papillomaviruses (HVs), sepsis, and pneumonia.7
In July 2008, Seegene Inc. and Shimadzu Corporation have announced a strategic partnership to integrate Seegene's Seeplex multi-pathogen tests with Shimadzu's MultiNA analytical platform, enabling a highly sensitive and high-throughput multi-pathogen detection and analysis solution for laboratories worldwide. This collaboration aims to provide an efficient and accurate screening platform to detect prevalent pathogens.8 During the same month, Seegene introduced the Seeplex® Sepsis multi-pathogen screening test at the 2008 Annual Meeting and Clinical Lab Expo of the American Association for Clinical Chemistry— July 27–31 in Washington, DC. This breakthrough test quickly and accurately identified a wide range of sepsis-causing pathogens in a patient's blood and offered the potential to improve sepsis diagnosis, save lives, and reduce healthcare costs, although it was not available in the USA ( and was pending regulatory approval) at the time.9
On April 20, 2009 Seegene introduced the Seeplex® Meningitis ACE Detection test at the 2009 Clinical Virology Symposium, offering a rapid and multiplex PCR diagnostic technique to identify various pathogens causing meningitis. This innovative test could detect both bacterial and viral meningitis infections within six hours, addressing the need for early and accurate diagnosis to prevent severe complications and fatalities associated with the disease.10 During the same month, Seegene announced a new diagnostic tool called the Seeplex Diarrhea ACE Detection test. This multiplex PCR test offered a swift and efficient way to detect a wide spectrum of pathogens responsible for causing diarrhea.11
Now, that month we are talking about here was April 2009. Do you remember what happened in April 2009? It was the outbreak of the 2009 swine flu pandemic. It would last up until August 2010 and it would kill about 284,000 people worldwide. Now guess what the hardworking people at Seegene did? You are right: they released a PCR test for H1N1 as quickly as possible. In July 2009, Segene introduced its Seeplex(R) RV Multiplex PCR Tests to effectively identify the new influenza A virus (swine H1N1). These tests demonstrated high specificity and sensitivity, outperforming other diagnostic tests in a trial by the Ontario Agency for Health Protection and Promotion, and Seegene also announced they would release a dedicated multiplex PCR test for Flu A sub-typing in September that year to aid in the upcoming flu season's preparedness.12
By September 2009, the company announced the award of a patent in the U.S. and Europe for its innovative technology called Annealing Control Primer (ACP), designed to enhance the specificity and reproducibility of gene amplification in PCR testing. ACP was recognized in scientific literature for its significant contributions to gene discovery and the detection of various genetic sequences, offering the potential to reduce false-positive results and advance gene amplification-based technology applications.13
By November 2009, Seegene showcased a real-time, high-volume rapid test for four pathogen assays, including H1N1, at the Medica trade fair. They also announced plans to launch a technology that would significantly reduce turnaround time for Polymerase Chain Reaction (PCR) instruments.14
In January 2010, Seegene obtained a Medical Device License from Health Canada for its Seeplex® Diarrhea-V ACE Detection test, which was built on a novel molecular diagnostic platform. This development allowed the Canadian healthcare system to utilize the viral diarrhea detection kit, offering improved patient care and cost reduction. The Seeplex® Diarrhea-V ACE Detection test was a multiplex assay that could rapidly and accurately detect various viral pathogens associated with diarrhea, providing a more sensitive and specific alternative to traditional diagnostic methods.15
A clinical study conducted in 2010 compared Seegene's Magicplex READ PCR technology to established real-time PCR tests for tuberculosis (TB) and sexually transmitted infections (STIs). The study found that the Magicplex technology was comparable in detecting positive results but superior in detecting false negatives, correcting one-in-four results that previously tested negative by conventional PCR technology. This breakthrough demonstrated the potential for higher efficiency and effectiveness in patient care, particularly in detecting TB and STIs, with a wider range of sample types and multiplexing capabilities.16
In May 2010, a pediatric study conducted at the Toronto-based Hospital for Sick Children (SickKids) compared different diagnostic tests for detecting respiratory viruses in children. The study found that Seegene's Seeplex® diagnostic technology demonstrated increased sensitivity and excellent specificity compared to other tests like direct fluorescent antibody testing (DFA) and viral culture. The study highlighted the effectiveness of multiplex PCR assays for rapid and comprehensive viral respiratory detection, particularly emphasizing Seeplex's superior performance in identifying adenovirus (ADV).17
In July 2010, Seegene introduced its Magicplex™ Sepsis Test, a multi-pathogen screening test capable of rapidly identifying over 90 sepsis-causing pathogens. Sepsis, a deadly disease, was on the rise, with the test addressing the urgent need for quick and accurate diagnosis within the crucial first hours of onset. This diagnostic tool, showcased at a clinical chemistry expo, offered a significant advancement in sepsis diagnosis improving patient outcomes globally.18
In July 2012:
Seegene introduced a diagnostic technology called Quantplex MTB/MDR/XDR Detection at the AACC annual meeting. This real-time PCR assay could detect Mycobacterium tuberculosis and identify drug-resistant mutations associated with MDR and XDR forms of the disease. It was based on TOCE(TM) technology enhancements, allowing the rapid detection of drug-resistant M. tuberculosis and offering significant potential for improving tuberculosis diagnosis and treatment.
In December 2012:
Seegene and DuPont Nutrition and Health signed a licensing agreement for the use of Seegene's multiplex molecular chemistry in DuPont's real-time PCR-based food safety assays, which included the utilization of DPO and TOCE technologies. The agreement followed their earlier announcement in May about jointly developing highly multiplexed assays for foodborne pathogen detection.
In January 2013:
Seegene appointed Dr. John G. Hurrell as its Senior Executive Vice President. In this role, he oversaw Seegene's B2B business unit, focusing on global licensing, OEM partnerships, companion diagnostic deals, and expanding the customer base in the clinical laboratory test market. Dr. Hurrell, who previously served as the President and General Manager of Focus Diagnostics and held various management positions in healthcare firms, brought valuable experience to Seegene's leadership team.
In June 2013:
Seegene announced the introduction of its extended mutation detection technology at the 2013 American Association of Clinical Chemistry annual meeting, allowing simultaneous detection of over 20 mutations using standard real-time PCR instruments. The technology eliminated wild-type signals and detected minority mutations even in the presence of a 10,000-fold excess of wild-type DNA. Seegene aimed to make this technology widely available through licensing and OEM initiatives, presenting it as a significant advancement in molecular diagnostics.
In July 2013:
Seegene collaborated with Eidia, the in vitro diagnostics subsidiary of Eisai Co., Ltd., to introduce TOCE™ technology-based multiplexed molecular diagnostic tests to the Japanese market. Eidia exclusively marketed and distributed these tests in Japan, while also obtaining regulatory clearance from the Japanese Pharmaceutical and Medical Device Agency. This strategic partnership aimed to enhance Seegene's market presence in Japan, a significant player in the global diagnostics industry.

Seegene announced the development of a novel real-time array technology. This was aimed at expediting Point of Care Testing (POCT). This technology streamlined and unified the steps involved in real-time array tests, eliminating the need for burdensome and time-consuming processes typically associated with conventional arrays. The technology, which could detect multiple targets simultaneously without various additional steps, had the potential to revolutionize molecular diagnostics and was intended to be widely available through licensing and OEM campaigns in the life science industry.
In December 2013:
Seegene announced its participation in the 32nd Annual J.P. Morgan Healthcare Conference. The company's Founder and CEO, Dr. Jong-Yoon Chun, was set to discuss Seegene's financial performance, growth strategy, molecular innovations, and its move into companion diagnostics during the conference. Seegene's goal was to continue advancing technological innovation in nucleic acid amplification and detection, aiming to develop cost-effective, responsive, and tailored patient care solutions through highly multiplexed diagnostic tests.
In May 2014:
Seegene Inc. announced its "MDisc" technology, a new development in real-time PCR. MDisc enabled the simultaneous amplification and detection of multiple target genes in a single channel, eliminating the need for melt curve analysis. This innovation promised to enhance molecular diagnostics across various fields, from disease diagnosis to treatment monitoring.
In July 2014:
Seegene embarked on a journey to gain FDA clearance for its first molecular diagnostic test, which aimed to detect herpes simplex virus I and II using TOCE primer technology. This marked a crucial step in Seegene's entry into the US market. Seegene was also developing a 26-target respiratory pathogen panel with advanced data analysis methods like MuDT, aiming to revolutionize real-time PCR capabilities, potentially allowing for the detection of up to 20 targets in a single assay, offering quantification advantages over existing systems.
In November 2014:
Seegene introduced its Allplex™ assays, utilizing MuDT™ next-generation qPCR technology, enabling the simultaneous detection and quantification of multiple target analytes in a single fluorescence channel without the need for melt curve analysis. These assays covered a range of infectious diseases, including respiratory, gastrointestinal, and sexually transmitted infections, making them a valuable tool for accurate and cost-effective disease diagnosis with faster turnaround times. Seegene aimed to expand its infectious disease portfolio and seek CE Mark approval for the first three assays in 2015.
In January 2015:
Seegene Inc. announced its participation in the 33rd annual J.P. Morgan Healthcare Conference, where its CEO, Dr. Jong-Yoon Chun, presented the company's growth strategy and breakthrough MuDT™qPCR technology, along with recent corporate developments, including partnerships with Beckman Coulter and other global IVD players. The conference, held on January 14, 2015, in San Francisco, was a significant event in the healthcare industry, with over 300 companies delivering presentations to more than 3,000 investors.
In February 2015:
Seegene received FDA clearance for its TOCE™-based herpes simplex virus (HSV) types 1 and 2 assay in February 2015, marking their first product approval by the FDA. The clearance opened the door for Seegene to submit more multiplex real-time PCR reagents to the FDA and expand its presence in the U.S. molecular diagnostic market. Seegene also aimed to establish a U.S. subsidiary in 2015 and continue developing its Allplex family of infectious disease panel tests based on their innovative MuDT™ technology.
In March 2015:
Seegene received approval from Health Canada for its Allplex™ Respiratory Panel 5 assay, which could identify Influenza virus A and B, RSV A and B, and Influenza A virus subtypes H1 and H3 simultaneously, using their innovative MuDT™ technology. This approval expanded Seegene's presence in the Canadian molecular diagnostics market, where they already offered 10 multiplexed infectious disease molecular assays and held an estimated market share of over 50% in respiratory genotyping tests. Additionally, Seegene had recently achieved FDA 510(k) clearance for its TOCE™-based assay for herpes simplex virus (HSV) types 1 and 2, marking their entry into the U.S. market.
In April 2015:
Seegene Inc. established a new U.S. subsidiary called Seegene Technologies Inc. in Concord, California, with the aim of expanding its presence in the global molecular diagnostics market. The company focused on enhancing its sales channel in the U.S. by managing existing clients and seeking new ones through Seegene Technologies. Additionally, Seegene worked on obtaining FDA approvals for multiplex reagents for respiratory and gastrointestinal infections, along with exploring partnerships with global in-vitro diagnostics companies to establish a U.S. manufacturing and supply system by 2017.
In July 2015:
Seegene Inc. and QIAGEN N.V. collaborated to develop and supply molecular diagnostic assays. Seegene exclusively designed multiplex infectious disease testing panels for QIAGEN's real-time PCR cycler Rotor-Gene Q, with QIAGEN gaining worldwide commercialization rights to these tests. This partnership aimed to provide more comprehensive diagnostic tools and expand Seegene's footprint in the molecular diagnostics market, utilizing Seegene's innovative PCR technology.
In September 2015:
Seegene Inc. and BD Life Sciences, a segment of BD (Becton, Dickinson and Company), collaborated globally to develop multiplex real-time PCR reagents for the BD MAX™ System. Seegene developed and manufactured these multiplex tests using novel technologies exclusively for BD's molecular diagnostics platform, while BD gained worldwide commercialization rights to these tests. This partnership aimed to expand the BD MAX™ assay portfolio and bring Seegene's multiplex PCR chemistry technologies to physicians and patients worldwide, marking a significant milestone for Seegene's global expansion in the molecular diagnostics market.
In March 2016:
Seegene Technologies, then US subsidiary of Seegene, Inc., announced its entry into the U.S. market by offering customized multiplex PCR (Polymerase Chain Reaction) solutions. The company aimed to provide high-complexity PCR assays while maintaining sensitivity, specificity, and cost-effectiveness for research, clinical diagnostics, and other life science applications. Seegene Technologies officially launched its U.S. custom services and innovation division during the 2016 Molecular Medicine Tri-Conference in San Francisco, expanding its successful track record of providing such assays in Europe, Asia, Canada, the Middle East, and Latin America to serve the U.S. market.
In May 2016:
Seegene established a 50-50 joint venture named "Biodist-Seegene Diagnostics" with Mexican company Biodist Group in April 2016. Seegene provided its molecular diagnostic technologies and expertise, while Biodist Group contributed a marketing and sales distribution network in Mexico. Together, they aimed to promote innovative molecular diagnostic technologies in Latin America and expand into non-human in vitro diagnostic markets, such as agriculture, marine quarantine, and food safety testing, by reducing testing costs through simultaneous pathogen detection.
In June 2016:
On June 28, 2016, Frost & Sullivan recognized outstanding South Korean companies at the 2016 South Korea Excellence Awards. Seegene received the In-Vitro Diagnostics Company of the year. The awards were based on various performance indicators, including revenue growth, market share, product innovation, and marketing strategy.19
In July 2016:
Seegene conducted a promotion at the American Society of Microbiology Microbe conference, recruiting 200 customers for beta testing its innovative oligo service using a novel fluorescence system. The company developed new in-house software for this service, allowing customers to design primers and probes without fluorescent tags, reducing costs significantly. Seegene aimed to offer this technology to the global market at a competitive price, targeting applications in PCR assays and next-generation sequencing confirmation tests.20

Seegene partnered with Daegu Gyeongbuk Institute of Science and Technology (DGIST) to develop software for advancing molecular diagnostics in everyday life. They signed a memorandum of understanding to collaborate on digitizing molecular diagnostics technology, particularly in designing high-quality oligonucleotides, the key components of diagnostic reagents, and utilizing data analysis technology. Seegene's CEO, Chun Jong-Yoon, expressed that this joint research will significantly reduce reagent development time, benefitting the molecular diagnostics market.
In August 2016:
Seegene introduced an automated solution called SGsilico for in silico-based multiplex real-time PCR assay development. This innovation significantly reduced the development time from months to less than a week and cut costs by up to one-tenth of the conventional process. Seegene aimed to expand its use in molecular diagnostics, offering a wide range of applications, and was seeking local strategic partners for collaboration.
In September 2016:
Seegene secured a 10 billion won ($9 million) contract to provide diagnostic kits for sexually transmitted infections (STIs) and human papilloma virus (HPV) to Italian state-run hospitals. They outperformed 12 other strong competitors during the bidding process due to their recognized technological expertise and reliable product performance. Two months later, Seegene would supply its STI detector Anyplex Ⅱ STI-7 and HPV detector Anyplex Ⅱ HPV28 to hospitals in the Toscana region of Italy for a five-year period.
In November 2016:
Seegene Hologic formed a worldwide collaboration to develop high multiplex molecular diagnostic assays. Seegene was responsible for developing and manufacturing multiplex assays for Hologic's Panther Fusion™ system, while Hologic gained global commercialization rights to these assays. The partnership aimed to enhance Hologic's position in the molecular diagnostic market by expanding the menu of their Panther Fusion™ system with Seegene's innovative technologies.

Seegene announced a collaboration agreement with the Catalan Institute of Oncology (ICO) for cancer-related clinical research and product development. The signing ceremony occurred at ICO's headquarters with key figures from both organizations present. This partnership marked the initial step in Seegene's "Project 100," aimed at developing 100 new molecular diagnostic products in the next two years by optimizing various aspects of product development and clinical trials.21

Seegene and the Institut Catala d'Oncologia (ICO) in Spain signed an MOU for collaboration in clinical research and the development of cancer-related diagnostic products. This partnership aimed to utilize Seegene's molecular diagnostic technologies to conduct clinical studies on various cancer specimens and create new cancer screening products. It marked the initial step of Seegene's 'Project 100,' an ambitious plan to develop 100 new molecular diagnostic products by 2018, diversifying their portfolio beyond infectious diseases into cancer diagnosis and other areas.
In 2017, South Korean biotech company Seegene aimed to expand aggressively into the US and European markets by introducing hundreds of molecular diagnostic assays for early disease detection. Seegene implemented breakthrough technology to automate reagent development, reducing development time from a year to weeks. In an interview in December 2016, the CEO, Chun Jong-yoon, emphasized the importance of making molecular tests more accessible due to their high cost. Seegene's efforts led to the development of a single-platform solution for molecular diagnostics, making it an attractive option for both hospitals and patients, and they anticipated significant growth in sales and market presence in the coming years.22
In February 2017:
Seegene developed a software technology capable of normalizing test results from real-time PCR molecular diagnosis systems. This innovation addressed signal variations between PCR instruments of the same model and within the same instrument's wells, a long-standing issue in the industry. The software ensured consistent and reliable results, paving the way for Seegene's expansion of its "one platform MDx solution" to various types of instruments, ultimately contributing to the standardization of molecular diagnosis systems worldwide.
In April 2017:
Seegene announced the development of Second-generation Real-time PCR Technology, which had recently received patents in the United States and Europe. This innovative technology allowed for the simultaneous amplification and analysis of multiple genes in a single detection channel, offering a breakthrough in the field of molecular diagnostics. It also significantly reduced the time and cost associated with assay development, making it a game-changer in the real-time PCR business.
In May 2017:
Seegene entered into a strategic collaboration with Thermo Fisher Scientific, where both companies filed for FDA clearance simultaneously. Seegene aimed to gain FDA clearance for its Allplex diagnostic assay portfolio, while Thermo Fisher sought clearance to run Seegene's assays on its QuantStudio 5 Real-Time PCR System. This collaboration combined Thermo Fisher's PCR System with Seegene's multiplex detection technologies, allowing for a comprehensive molecular diagnostics solution in the U.S. market, with a focus on sexually transmitted infections, gastrointestinal, and respiratory pathogens.
In June 2017:
Seegene signed an Memorandum of Understanding (MOU) with Mexico's Agriculture Department's research agency, INIFAP, to collaborate on clinical studies and product development related to bovine tuberculosis (TB) detection assays. This marked Seegene's first partnership with a Mexican government agency, and their goal was to evaluate the clinical applications of bovine TB detection assays and improve zoonotic TB diagnosis and control in the Mexican livestock industry. Seegene aimed to launch the product in Mexico by the end of that year and expand into the Latin American market for both human and non-human MDx through a joint venture with a Mexican biotech company, Amplibio.
In July 2017:
Seegene introduced its innovative Seegene Random Access System at the 69th AACC Annual Clinical Lab Expo in San Diego, CA. This system revolutionized molecular diagnostics by enabling same-day testing and reporting for various diseases, overcoming operational limitations in clinical laboratories. Seegene's unique approach allowed for the simultaneous performance of over 100 high-multiplex real-time PCR assays on a single instrument platform, making rapid and personalized treatment a reality.
In August 2017:
Seegene entered into collaborative contracts with 30 hospitals and laboratories in 15 different countries for 'Project 100,' a co-development initiative. These partnerships involved sharing clinical samples and insights to develop various molecular diagnostic assays, including those for meningitis, drug resistance, and Helicobacter pylori. Seegene's goal with 'Project 100' was to create a single instrument capable of performing a wide range of molecular diagnostic tests, and they aimed to develop 100 such assays by 2018 while applying their unique Random Access System to all future products.
In September 2017:
Seegene and the Hamilton Company, a global precision measurement device manufacturer, signed an Memorandum of Understanding (MOU) to collaborate on the Seegene Random Access System. This system aimed to provide same-day order-to-report molecular diagnostics by integrating real-time PCR testing on Hamilton's automated platforms. The partnership accelerated the system's development, enabling broader molecular diagnostics utilization beyond large hospitals and clinical laboratories.
In January 2018:
Seegene successfully utilized an AI-based assay development system called "SG-DDS" to create molecular diagnostics (MDx) assays in just four days. These high multiplex real-time PCR reagents, designed to simultaneously detect 8 different DNA targets for meningitis and sexually transmitted infections, exhibited sensitivity and specificity equivalent to or better than manually developed assays. Seegene's CEO, Dr. Jong-Yoon Chun, believed that AI would increasingly replace professional researchers in developing medical diagnostic assays, as SG-DDS streamlined the R&D process, reducing time, labor, and costs, while expanding Seegene's focus to non-human IVD areas and customized diagnostic assays.
In April 2018:
Seegene revealed a high-efficiency "combination test" at the 28th European Congress of Clinical Microbiology and Infectious Diseases (ECCMID 2018) in Madrid, Spain. This test allowed for the simultaneous diagnosis of various infectious diseases sharing similar symptoms, such as tuberculosis and pneumococcus, from a single specimen. Seegene's unique MDx system, SGSTAR, enabled order-to-report on the same day, potentially improving patient care, saving time and costs, and finding applications beyond respiratory diseases, including HPV, sexually-transmitted infections (STI), and gastrointestinal infections (GI).
In September 2018:
Seegene announced a real-time PCR analysis technology called "MuCT™" in 2018, significantly increasing its multiplexing capacity. This proprietary technology enabled a single channel to detect up to 5 Ct values, allowing for syndromic panel tests without requiring hardware changes. By achieving 5 Ct values per color channel, Seegene's MuCT™ technology could detect up to 25 analytes per assay on a 5-channel instrument, paving the way for "ultra-high" multiplex syndromic panels, simplifying assay development, and offering wide-ranging applications in diagnostics, including infectious diseases, oncology, and genetic disorders.
In November 2018:
Seegene Inc. introduced a groundbreaking molecular diagnostic test kit called Allplex™ Entero-DR, designed to rapidly screen for drug resistance in Enterobacteriaceae without the need for traditional culture methods. Clinical trials for this assay were conducted in 23 hospitals affiliated with the Italian Association for Clinical Microbiology, targeting the global hospital-associated infections (HAI) diagnosis market, which was projected to grow significantly due to the rising concern of antimicrobial drug resistance. The test offered quick results in just 3 hours, improving patient care, reducing hospital stays, and potentially lowering operating costs, making it a valuable addition to the HAI diagnostic market, which was estimated to be worth billions of dollars.
In June 2019:
Seegene established a new subsidiary called Seegene do Brasil Diagnosticos Ltda. in Belo Horizonte, Brazil. The company aimed to target the rapidly growing Brazilian in-vitro diagnostics (IVD) market in Latin America, which was valued at $2 billion. They managed existing and new clients directly, overcoming barriers like complex approval processes and customs clearance by developing, manufacturing, and commercializing products within Brazil through Seegene Brazil Diagnostics LTDA. Seegene leveraged its multiplex technologies to create diagnostic products tailored for tropical viruses like Zika and dengue fever. The company focused on expanding its market presence in Latin America through local R&D, production, and sales.

Seegene announced the FDA registration of its nucleic acid extraction instrument, the Seegene STARlet, during the 2019 American Society for Microbiology Microbe Conference. This clinical instrument, along with Universal Extraction Cartridge Kits, would be made available in the United States. The Seegene STARlet system offered an automated solution capable of processing a wide range of sample types, including swabs, blood, stool, and more, with a throughput of 94 samples in about two hours, making it suitable for both small and large laboratories.
Seegene's stock at the KOSDAQ started the year 2020 at around 15,000 Korean Won per share. By August, the stock reached 156,000 Korean Won.
If you bought $10,000 worth of Seegene stocks in January 2020, six months later, by July your stocks would had been worth $100,000 or more. Sure the stock went back down later, but even as of the time of writing this newsletter, the stock is still up 48% from the pre-pandemic levels.
In 2020, CEO and founder of Seegene, Dr. Jong-Yoon Chun, has seen his 18% stake in the company rise in value to $225 million as a result of this growth. However, the company's rapid focus on producing coronavirus test kits has hindered its development and manufacturing of other products, according to Dr. Chun.23
In February 2020:
Seegene received approval from the Korea Ministry of Food and Drug Safety (MFDS) for its novel COVID-19 Real-time PCR assay. This assay, known as Allplex™ 2019-nCoV Assay, could simultaneously identify three different target genes, improving testing efficiency and reducing costs. Seegene's automated system could deliver test results in just 4 hours, and the company was capable of manufacturing up to 100,000 COVID-19 tests per day to meet global demand.
In April 2020:
South Korea had experienced high global demand for its COVID-19 testing supplies, with 121 countries requesting exports or donations. Seegene's COVID-19 test kit, the Allplex 2019-nCoV Assay, accounted for 80% of South Korea's testing and was crucial in the country's extensive testing campaign. Seegene's efficient testing process involved extracting, amplifying, and analyzing samples, allowing them to test up to 15,000 samples in a day. This technology detected three genes in one tube, reducing costs and increasing convenience. Other Korean companies like Kogenebiotech and SolGent also contributed to the global supply of COVID-19 test kits.

Seegene received approval from Health Canada for its Allplex™ 2019-nCoV Assay, a Real-time RT-PCR test for SARS-CoV-2, the virus causing COVID-19. This approval allowed for the import and sale of the test in Canada, enabling laboratories to conduct high-volume COVID-19 testing. The test had already gained recognition as a global standard in over 54 countries, including several hard-hit European nations, due to Seegene's extensive laboratory network and reputation as a leading developer of syndromic disease testing.

Seegene exported more than 10 million COVID-19 diagnostic tests to over 60 countries, significantly contributing to global testing efforts. Their tests, known as Allplex™ 2019-nCoV Assay, were lauded for their high quality, efficiency, and the ability to identify three different target genes in a single reaction tube, ensuring accurate results. Seegene scaled up production to meet increasing demand, aiming to manufacture over 20 million tests by May 2020.

Seegene received Emergency Use Authorization (EUA) from the U.S. Food and Drug Administration (FDA) for its Allplex™ 2019-nCoV Assay, a Real-time RT-PCR test for detecting SARS-CoV-2, the virus responsible for COVID-19. This assay had a unique feature, identifying 3 different target genes in a single reaction tube, ensuring highly accurate results and efficient testing in over 60 countries. Seegene's advanced technology, including an AI-based assay design platform, played a crucial role in South Korea's rapid response to the COVID-19 outbreak, and the FDA EUA approval would enable high-volume testing in the United States.
In May 2020:
Seegene announced the export of 10 million COVID-19 testing kits to the Pan American Health Organization (PAHO) / World Health Organization (WHO) through its Brazilian subsidiary. Initially, they had supplied 5 million tests to Brazil and planned to deliver the remaining tests shortly, with discussions ongoing to potentially increase the testing volume by up to 100%. This significant export reflected the surging global demand for Seegene's COVID-19 testing products, showcasing the effectiveness of their high-volume testing system.
In September 2020
On September 8, 2020, Seegene Inc. introduced the Allplex™ SARS-CoV-2/FluA/FluB/RSV Assay, a high-throughput 8-plex test capable of simultaneously detecting and differentiating Flu A, Flu B, RSV A/B, and three different COVID-19 target genes. This multiplex assay was designed to address the challenge of distinguishing between seasonal flu and COVID-19 due to similar symptoms during the COVID-19 pandemic. With its proprietary multiplex chemistry technologies, internal control targets, and automated systems, Seegene aimed to offer an efficient and cost-effective solution for laboratories preparing for the flu season during the pandemic.
In November 2020:
Seegene achieved remarkable financial results in Q3 2020, with record-high sales revenue of KRW 326.9 billion, an operating profit of KRW 209.9 billion, and a net profit of KRW 152.5 billion. These figures marked significant year-over-year growth, primarily driven by a substantial increase in sales of COVID-19-related products in Europe, leading to a 64% operating profit to sale ratio for the quarter. Seegene aimed to continue its growth in 2021 by expanding its diagnostics instruments and solutions globally and introducing new diagnostic kits, with a goal of surpassing KRW 1 trillion in annual sales.
In December 2020:
Seegene announced that their Allplex™ SARS-CoV-2/FluA/FluB/RSV Assay, which could simultaneously detect 8 target genes including COVID-19 and influenza, became available in Europe with an extraction-free feature. The product had received CE-IVD marking earlier in the year, with sales commencing shortly afterward. This development was significant in addressing the COVID-19 pandemic, especially during the winter season, as it allowed labs without extraction equipment to conduct quicker and more cost-effective testing, potentially aiding in pandemic control efforts in Europe and beyond.

Seegene reported that its sales for the year had exceeded KRW 1 trillion, a tenfold increase from its 2019 annual sales of KRW 120 billion. This substantial growth was driven by high demand for molecular diagnostic test kits and PCR instruments, primarily due to the COVID-19 pandemic. Seegene announced plans to expand its annual production capacity to KRW 5 trillion by the first quarter of 2021 to meet the growing demand and purchased additional land for future expansion.

Seegene donated 20,000 COVID-19 tests (Allplex™ SARS-CoV-2 Assay) to the Ecuadorian government in December 2020 to assist in the fight against the pandemic. These tests were distributed to various locations, including the National Institute for Public Health Research (INSPI) in Quito and Cuenca, as well as the Quito city government. Ecuador's health ministry reported a total of 202,356 confirmed COVID-19 cases and 9,357 deaths at that time.
In January 2021:
Seegene introduced CE-IVD marked saliva-based testing for its Allplex™ SARS-CoV-2 Assay and Allplex™ SARS-CoV-2/FluA/FluB/RSV Assay in Europe. This addition of saliva sample collection aimed to ease the burden on healthcare professionals during the COVID-19 pandemic by providing an alternative, convenient, and sensitive method for specimen gathering. It eliminated the need for nucleic acid extraction and expanding testing capacity.

Seegene expanded its business in Latin America by focusing on its multiplex assay product, Allplex™ SARS-CoV-2/FluA/FluB/RSV Assay. This syndromic test, approved by Brazil's ANVISA, coud detect multiple target genes, including COVID-19, influenza, and the common cold, making it a valuable tool for distinguishing between these diseases. The company aimed to boost its sales revenue in the region by introducing this product.
In February 2021:
Seegene developed the world's first COVID-19 diagnostic variant test, named the Allplex™ SARS-CoV-2 Variants Ⅰ Assay, which could identify multiple mutant variations of the virus in a single test, including those from the UK, South Africa, Japan, and Brazil. This test integrated several proprietary technologies, enabled precise detection of coronavirus mutations. The company aimed to supply it to global organizations and governments to enhance massive testing efforts in controlling the pandemic.

A study conducted by Kangwon National University School of Medicine found that Seegene's saliva-based COVID-19 test was just as accurate as the nasopharyngeal test, with both methods showing over 98.8% agreement in detecting COVID-19. This research suggested that saliva tests were a viable and effective alternative to nasopharyngeal tests, especially in light of the growing demand and potential supply shortages for swabs used in the latter method.
In March 2021:
Seegene developed the Allplex™ SARS-CoV-2 Master Assay a COVID-19 diagnostic test that could simultaneously detect the virus and its multiple variants, including those from the UK, South Africa, Japan, and Brazil, in a single test. This innovative test, which used Seegene's high multiplex technology, significantly reduced the turnaround time for identifying both COVID-19 and its variants to less than two hours, potentially enhancing the capacity for mass testing and monitoring the evolving virus.

Seegene submitted its Allplex™ SARS-CoV-2/FluA/FluB/RSV Assay to the U.S. FDA for Emergency Use Authorization, offering a real-time RT-PCR assay that can simultaneously detect and differentiate various respiratory infections, including COVID-19 and influenza, streamlining testing and aiding in the fight against the COVID-19 pandemic. The multiplex assay aimed to provide efficient and accurate diagnosis, reduce testing costs, and meet the high demand for COVID-19 testing, especially in settings like schools and businesses, where widespread testing is crucial for reopening and resuming normal operations.
In April 2021:
Seegene secured a public procurement agreement to supply COVID-19 diagnostic tests worth £16 million GBP to Scotland, a significant increase from the previous year, marking the largest diagnostic volume in the region since the pandemic began. Seegene's unique multiplex real-time PCR assay, the AllplexTM SARS CoV-2 Assay, would be distributed to nine hospitals in Scotland, and the company was prepared to provide variant tests based on demand. This indicated the company's commitment to fighting the pandemic and expanding its market presence globally.

Seegene obtained an export permit to ship its latest COVID-19 variant diagnostic tests, including the 'AllplexTM SARS-CoV-2 Master Assay' and 'AllplexTM SARS-CoV-2 Variants I Assay,' to over 20 countries worldwide, including hard-hit European nations and Chile. These tests could simultaneously detect COVID-19 and various virus variants, helping to enhance global efforts in countering the pandemic by providing efficient and widespread variant detection, potentially testing up to 30 million people monthly.

Seegene supported Mexico's efforts to combat the COVID-19 pandemic by donating 50,000 diagnostic tests, 100 refrigerators for storage of tests and vaccines, and 20,000 protective face masks to Mexico's Ministry of Health. This donation was made during a ceremonial event in Mexico City, with the aim of assisting Mexico in reopening schools and businesses as part of the country's 'back to school' campaign amidst the pandemic.
In May 2021:
Seegene introduced an innovative diagnostic system for identifying COVID-19 variants at the European Congress of Clinical Microbiology (ECCMID). The system, called the 'Full Screening Solution,' allowed for efficient differentiation between the wildtype virus and its variants with a single real-time PCR test, potentially aiding in controlling the spread of the COVID-19 pandemic amid the rise of fast-spreading virus variants.

Seegene reported strong financial results for the first quarter of 2021, with a significant increase in consolidated revenue to KRW 351.8 billion, a 330% rise compared to the previous year, and an operating profit of KRW 193.9 billion, up 388% year-on-year. The company attributed this success to growing demand for variant diagnostic tests amid the ongoing pandemic, and it anticipated further growth through expanding into new markets and introducing new products and technologies.

Seegene's German subsidiary, Seegene Germany GmbH, has partnered with the government's Back-to-School program in Germany to supply COVID-19 diagnostic tests worth up to 19.3 million Euros. These tests would be provided to laboratories in the North Rhine-Westphalia region to test over 734,000 pupils across elementary and special schools, using Seegene's various COVID-19 diagnostic assays, as part of an effort that facilitated a return to normalcy amidst the then-ongoing pandemic.
In June 2021:
Seegene revealed its new mobile laboratory called "MOBILE STATION" at the Medlab Middle East 2021 exhibition in Dubai. This deployable container laboratory was designed for mass PCR testing at locations such as schools, airports, and communities, with a maximum capacity of 7,500 tests per day and a turnaround time of 3.5 hours. Seegene also introduced a self-administrable sample collection device called 'Combo Swab' and signed an MOU with G42 Healthcare to expand its diagnostics business in the Middle East and North Africa.

Seegene entered into a partnership with Bio-Rad Laboratories, an American biotechnology company, to develop and commercialize infectious disease molecular diagnostic products for the U.S. market. This collaboration was a significant move for Seegene to expand its presence in the U.S. in vitro diagnostics market and leverage its high-multiplex diagnostic technology for simultaneous screening of multiple target genes.
In July 2021:
Seegene introduced a new diagnostic test called the 'Allplex™ SARS-CoV-2 Variants II Assay,' capable of screening six major SARS-CoV-2 variants, including the Delta and Delta Plus variants. This test was expected to aid in monitoring the spread of these highly contagious variants and play a crucial role in early detection, particularly as concerns about their transmissibility and vaccine resistance would grow worldwide.
In August 2021:
Seegene reported its Q2 2021 earnings with a record revenue of KRW 303.7 billion ($269.1 million), marking an 11 percent year-over-year increase. Despite a slight decline in operating profit due to increased investments in R&D and personnel, the company achieved significant revenue growth in the first half of 2021, driven by strong demand for COVID-19 tests, and it anticipates favorable market conditions in the second half, especially with the rise of the Delta variant.
In September 2021:
Seegene announced its first fully automated molecular testing system called AIOS (All-in-One System) at the 2021 AACC Annual Scientific Meeting & Clinical Lab Expo in Atlanta, USA. AIOS integrated Seegene's liquid handling and real-time PCR instruments, offering high-throughput syndromic molecular diagnostics with modular and detachable components, enabling affordable and efficient testing for a wide range of healthcare applications.

Seegene received CE-IVD marking for its Combo Swab, a self-collection device designed for efficient COVID-19 specimen collection from both nasal and oral cavities. This development was expected to improve testing efficiency, reduce healthcare worker workload, and enhance accuracy in COVID-19 testing, offering a valuable solution during the ongoing pandemic.
In October 2021:
Seegene introduced the STARlet-AIOS: All-in-One System, a fully automated molecular diagnostic system designed to streamline high-throughput real-time PCR testing in clinical laboratories. This modular system offered a hands-free workflow from nucleic acid extraction to result interpretation, addressing the need for cost-effective and efficient testing solutions for hospitals and laboratories of all sizes, with a focus on ongoing COVID-19 surveillance and the detection of viral variants.
In November 2021:
Seegene reported its financial results for the third quarter of 2021. While Q3 revenue held steady at KRW 305.3 billion (approximately USD 260 million), the operating profit slightly dipped by 11% due to substantial investments in research and development (R&D). Despite the dip in operating profit, Seegene experienced significant year-over-year growth, with accumulated sales standing at KRW 960.8 billion (approximately USD 814 million) and accumulated operating profit at KRW 466.7 billion (approximately USD 395 million). The company continued to invest in R&D to develop new diagnostic tests, including those capable of screening 22 targets, including three genes of COVID-19 and 19 respiratory viruses in a single tube. Seegene remained committed to staying at the forefront of diagnostics, especially as the world faces the need for ongoing testing during the winter season.

Seegene expanded its global presence by opening a new subsidiary, 'Seegene Colombia S.A.S,' in Bogotá, Colombia. This strategic move aimed to enhance access to rapid and accurate COVID-19 testing in the region, which had been heavily impacted by the pandemic and the emergence of novel SARS-CoV-2 variants. The subsidiary would also support screening for other viruses such as human papillomaviruses (HPVs) and strengthen Seegene's position as a key provider of molecular diagnostic solutions in Colombia and neighboring countries. This development was particularly crucial as it addressed the need for flexible and secure supply chains for testing in a region where COVID-19 testing remains critical.
In December 2021:
Seegene delivered 1.7 million Allplex™ SARS-CoV-2 Master Assays and associated consumables to Israel by private plane on December 29th, in response to the acute shortages caused by the Omicron variant. This assay could detect both SARS-CoV-2 and the Omicron variant with high accuracy. It was the second emergency shipment to Israel, with the first occurring in April 2020. Seegene also hired a private plane to deliver 2.8 million COVID-19 tests to several European countries, including Italy, Spain, Belgium, Czechia, and Lithuania, to address the surge in infections due to the Omicron variant.

Seegene introduced the Novaplex™ SARS-CoV-2 Variants VII assay, a new PCR test designed to detect various COVID-19 variants, including the Omicron variant and its 'stealth' version. This test, which targets multiple genetic mutations in the S-gene, could accurately differentiate between different variants, providing an effective tool for governments and health authorities to combat the evolving landscape of COVID-19 variants. Seegene utilized an AI-based in-silico system to rapidly develop this test in response to the emergence of the Omicron variant, showcasing their commitment to staying ahead of the virus's evolution with timely diagnostic solutions.
In January 2022:
Seegene revealed its future plans during a presentation at the 40th annual J.P. Morgan Healthcare virtual Conference. CEO Dr. Jong-Yoon Chun proposed three strategic solutions to bring the world "back to normal" amidst the COVID-19 pandemic. These solutions include on-site mass testing with automated systems, a centralized screening system, and syndromic testing for respiratory symptoms using assays like the Allplex™ RV Master Assay. Doing so made Seegene shift its strategic focus towards becoming a molecular diagnostics platform company, introducing an open development platform that empowers users to develop their own diagnostic assays, simplifying the MDx development process and potentially accelerating the use of MDx in daily life. Listen to the presentation by Dr. Jong-Yoon Chun below:
Seegene delivered over five million COVID-19 tests to Israel to aid in detecting and managing the Omicron variant. The company's prompt delivery of tests covered a significant portion of Israel's population and played a vital role in controlling the potential 'twindemic' season, where cases of flu and COVID-19 coincided. Seegene is provided various products, including the Allplex™ SARS-CoV-2 Master Assay for tracking Omicron in real-time and the Allplex™ SARS CoV-2 FluA/FluB/RSV Assay for identifying the causes of respiratory symptoms, including COVID-19 and other respiratory infections.24

Seegene received approval from Health Canada for its Allplex™ SARS CoV-2 FluA/FluB/RSV Assay. This multiplex real-time PCR assay can simultaneously detect and differentiate respiratory infections, including Influenza A, B, RSV, and COVID-19, in a single test. This approval was crucial as Canada anticipated a surge in both flu and COVID-19 cases and would allow Seegene to support the rising demand for COVID-19 tests in the country and potentially expand its presence in surrounding regions like Latin America.25

Seegene announced it will launch the Allplex™ SARS-CoV-2 Fast PCR Assay, a new COVID-19 PCR test designed for mass testing, with results available in just 60 minutes. This test could reduce turnaround time by two-thirds, allowing hospitals and laboratories to expand their testing capacity significantly without compromising accuracy. Seegene achieved this reduction in turnaround time through the use of a novel enzyme and an extraction-free method, making it an ideal choice for large-scale testing in over 60 countries, aiming to match the speed of antigen tests while maintaining PCR test accuracy.26
In February 2022:
Seegene signed a supply deal with the Ministry of Health of Brazil to deliver four million COVID-19 tests, including the 'Allplex™ SARS-CoV-2/FluA/FluB/RSV' assay, to help address the surge in COVID-19 and Flu A cases in Brazil, particularly driven by the Omicron variant. Seegene also introduced a new assay, the 'Allplex™ SARS-CoV-2 Fast PCR Assay,' designed for mass testing with rapid results to aid in expanding testing capacity during the ongoing pandemic.27

Seegene announced its financial results for Q4 and full-year 2021, reporting record-high total sales of KRW 1.37 trillion (approximately US$1.14 billion), a 22% YoY increase. Despite a three-fold increase in strategic investments in research and development (R&D), Seegene maintained a steady operating profit of KRW 666.7 billion (approximately US$556 million). The company also revealed its strategic shift towards becoming a 'molecular diagnostics (MDx) platform company' and expanding its product portfolio to meet market demand, with a focus on COVID-19 and non-COVID diagnostic assays.28
In March 2022:
Seegene Technologies appointed Dr. Richard S. Creager as its new CEO. Dr. Creager was a consultant to The National Institutes of Health (NIH). He also consulted fore various companies developing diagnostic tests for prostate and other cancers.29

Seegene appointed Dr. Glen Hansen as the Head of Scientific and Medical Affairs for its U.S. subsidiary, Seegene Technologies. Dr. Hansen, with extensive experience in microbiology and molecular diagnostics, will provide clinical expertise for product development and help strengthen strategic partnerships in the U.S. healthcare sector, marking the second leadership appointment for the subsidiary within a month as Seegene seeks to expand its presence in the U.S. molecular diagnostics market.30
In April 2022, Seegene received approval from Australia's Therapeutic Goods Administration and obtained European CE-IVD marking for its Allplex™ RV Master Assay, which can identify 21 targets for 19 different respiratory viruses, including COVID-19, flu, and common colds. This syndromic test allows for the swift detection of various respiratory viruses in patients, especially important as the world adapts to living with COVID-19 and faces the potential for co-infections with other respiratory illnesses during the winter season.31
In May 2022, Seegene announced the world's first commercialized PCR assay technology called '3 Ct,' which can provide Ct values for three targets in a single channel without sacrificing sensitivity and specificity. This breakthrough is based on Seegene's 20 years of expertise and combines 19 patented technologies, and it is expected to revolutionize syndromic testing and enhance patient management in various medical applications, starting with the Allplex™ HPV HR Detection product designed to detect high-risk human papillomavirus types associated with cervical cancer.32
In June 2022, Seegene developed the Novaplex™ MPXV Assay, a PCR test designed to detect the monkeypox virus. This test can provide results within 90 minutes and was swiftly developed using Seegene's AI-based automated test development system. The company aims to provide accurate testing solutions for emerging viruses to aid in preventing future pandemics.33
In June 2022, Seegene received EU approval for its Allplex™ SARS-CoV-2/FluA/FluB/RSV Assay, which can detect multiple respiratory viruses, including COVID-19, influenza A and B, and respiratory syncytial virus (RSV). They have also introduced the 'AIOS' (All-in-One System), a fully automated high-throughput MDx system that supports syndromic testing, making it more accessible for small hospitals, local clinics, and public health centers to conduct PCR tests efficiently and conveniently.34
In July 2022, Segene participated in the 2022 American Association of Clinical Chemistry (AACC) Annual Scientific Meeting & Clinical Lab Expo, where they unveiled their global expansion strategies. They showcased their 'In-life PCR' campaign for regular COVID-19 and virus testing, introduced the fully automated STARlet-AIOS PCR system, and displayed their Novaplex™ assays, including a test for detecting the monkeypox virus. Seegene's initiatives aim to enhance community safety and expand their presence in the clinical laboratory and diagnostics industry, with a particular focus on the U.S. market.35
In November 2022, Seegene secured a €45 million contract to supply diagnostic reagents to public hospitals in Tuscany, Italy, for a duration of five years. The company's success in winning the contract is attributed to its multiplex PCR technology and prior contributions in supplying COVID-19 tests to Italy, with non-COVID products accounting for 43% of the supply, reflecting the growing clinical utility of molecular diagnostics beyond the pandemic.36
In January 2023, Seegene Technologies started the year with a new legal name and a new location: Seegene USA, Inc. is now based in 3 Burroughs, Irvine, CA 92618.37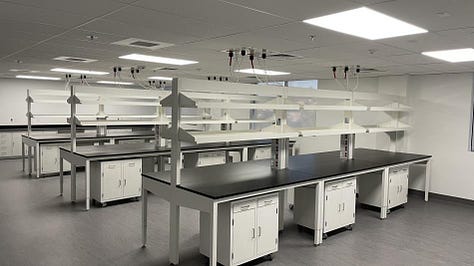 Seegene Technologies is one of the companies that has leased space in the newly transformed life sciences facility at 3 Burroughs in Irvine, known as Hatchlabs at Irvine Spectrum—other tenants include Skye Biologics Holdings and Phase Scientific Americas. This facility offers approximately 39,000 square feet of wet lab space and provides specialized infrastructure to support the needs of emerging life science companies, including Seegene Technologies.38
In March 2023, Seegene announced its commitment to share its Syndromic PCR technologies worldwide to prevent future pandemics. They aim to form global partnerships with reputable companies in various countries, democratize access to syndromic PCR testing through their 'One System,' and have already signed a global partnership agreement with Israeli diagnostic company Hylabs to further this initiative.39
In April 2023, Seegene and the International Vaccine Institute (IVI) have entered into a partnership to conduct the 'Global HPV Burden Study' across eight Asian and African countries. This study aims to measure the prevalence of 28 types of HPV in women aged 9-50, focusing on high-risk HPV infections in 18-23-year-olds, with the support of the Bill & Melinda Gates Foundation and other prominent institutions, to inform future policies and prevention programs for cervical cancer vaccination.40
In June 2023, Seegene successfully obtained certification under the European Union's In Vitro Diagnostic Medical Device Regulation (IVDR) for 30 diagnostic assays. These assays cover various medical indications, including gastrointestinal infections, women's diseases, respiratory diseases, tuberculosis, meningitis, human papillomavirus (HPV), and drug resistance, as part of the company's proactive response to meet the new regulatory standards aimed at enhancing the quality, safety, and reliability of in vitro diagnostic medical devices in the European market.41
In June 2023, Seegene partnered with Werfen, a global leader in specialized diagnostics, to collaborate on the development of syndromic qPCR assays tailored for the Spanish and Portuguese healthcare systems, including tests for sexually transmitted infections and drug resistance. This partnership aims to establish local infrastructure for the rapid response to pandemics and expand Seegene's OneSystem™ Business, which seeks to create a world free from diseases through open innovation and global collaboration.42
In June 2023, Segene entered into a strategic partnership with Springer Nature, a renowned global publisher, to expand its OneSystem™ Business. This collaboration aims to foster global scientific cooperation by developing syndromic PCR assays through an open innovation initiative, with the goal of advancing healthcare and addressing global health challenges.43
In July 2023, Segene showcased its syndromic quantitative PCR assays and automated PCR solution, STARlet AIOS™, at the 2023 American Association of Clinical Chemistry (AACC) Annual Scientific Meeting & Clinical Lab Expo. They introduced comprehensive PCR testing technology capable of detecting 14 pathogens simultaneously and highlighted the hands-free automation of PCR testing with STARlet AIOS™, emphasizing its potential for global expansion and non-COVID diagnostic applications.44
In September 2023, Seegene announced its 'Open Innovation Program' in collaboration with Springer Nature, the well-known German-British academic publishing giant. This global program aims to empower researchers and clinicians to develop syndromic quantitative PCR (qPCR) assays for various diseases, offering research grants, reagents, and support for 15 diagnostic projects spanning infectious diseases, drug-resistant pathogens, and more, with the ultimate goal of advancing global healthcare by creating a world free from all diseases.45